Psychobilly, Rockabilly's blood relative. Many years ago my life was changed forever when I was introduced to psycho rockin music of the 80s. Bands like The Meteors, The Cramps and (oh god I'm ashamed to admit it) The Horrorpops were the gateway drug to my obsession to Rockabilly Music. To celebrate this music I'm gonna call this page Psychobilly Nerd for one day. What inspired this? Well, a little emo pop punk magazine called Alternative Press released a list of essential psychobilly bands. I'm a fan of every band on the list (except Creepshow!!) but…it could have been longer. More bands could have been mentioned. This is a semi mainstream page, so I understand they aren't fluent in the psycho world. So I decided to take the bull by the horns and make a list of my own.  Enjoy!!
1.The Quakes
Recently celebrating their 30th anniversary, these guys are the earliest examples of American Psychobilly (suck on that Tiger Army).  Still going and recording. They're not the fastest band in the psycho world but songs like "I don't come from nowhere", "I miss you", and "Psychobilly Jekyll and Mr Hyde" are classics.
---
2. Torment
I wish Simon Brand was alive today. I absolutely love Torment. I remember going through some Klub Foot footage and fast forwarding through some of it and I landed on these guys without realizing who the band was. I loved what I heard. The most incredibly english sounding lead vocalist and I loved their guitar had 0 distortion. Once I realized who they are I became a fan for life.
---
3. Krewmen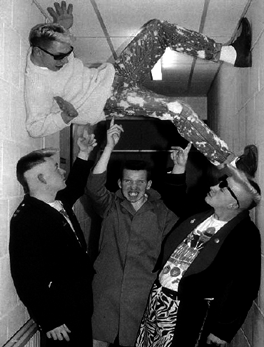 You're drunk. You're hanging out with your friends. "Bus Stop" comes on and everyone knows to yell "WEEEEEEEEELLL".  Mad Dog Cole has the most unique voice in all of music, not just psychobilly. I love the era so much that I'm only going to count his tenure for this list. Sorry. Not sorry.
---
4. Sir Psyko and His Monsters
The Kings of the current state of Psychobilly. I feel 100 times more manly when I listen to them. I don't wreck at all. But their music makes me wanna go full caveman SpongeBob somewhere.
---
5. As Diabatz
I would never have guessed 10 years ago that I would be listening to an all girl trio from Brazil. These girls embrace the sound of old school European psychobilly. And the bass is so slappy that someone once asked if my headphones were attached to a bomb.
---
6. The Griswalds
Fun 80s psychobilly! Had a near three decade gap between their classic debut "Who framed the Griswalds" to "Better Late than Never". Both great albums. If you need a break tough guy psychobilly then check out the legends, The Griswalds.
---
7.Sick Sick Sinners
Born from the Ashes of Brazilian band Os Catalepticos.  If psychobilly had testicles it would look like the guys from Sick Sick Sinners…..I'm not sure that sounds insulting or not. Thanks to their recnt album "Unfuckingstopable", psychos that drink coffee worldwide now have an anthem.
---
8. Klingonz
One of my favorite live acts I have ever seen! If you are able to sing the lyrics to any of their songs outside of the chorus then I have a lot of respect for you. These guys are bat shit crazy. And you'd have to be just crazy to not wanna see them (only time in my life where I have ever said "within the hour that man will only be wearing a thong")
---
9. Frantic Flintstones
I'll admit, I was very offended that their was no mention of these guys on that AP article. These guys were one of the first bands I got into. They are right up there with The Meteors and Demented Are Go. No band sounds like FF. Heavily recommend buying "Jamboree" and "Nightmare on Nervous".
---
10. Batmobile
Batmobile is mandatory! I heard these guys when I was younger and like I was listening to rock music for the first time. I will ask: am I the only one who hears the original version of "Ballroom Blitz" and think it sounds weird cause you're so used to the Batmobile version?
---
11. The Sharks
Saved the best for last! If there was one band that I was truly saddened that didn't get a nod from some publication. It would be the Sharks. From their early Neo Rockabilly sound to their return and domination of the psychobilly world. What other band can say that their best material were on all of their b side compilations? I tip my hat to Alan Wilson for not only being in one of the greatest psychobilly bands of all time, but also for continuing making music. With his label Western Star, which comes out with one kick ass release after another.
Like this list? Anyone I didn't mention? Let me know in the comments! Also feel free to LIKE the official Rockabilly Nerd Facebook page HERE!
Come back next time when I'll explain that I didn't have room for Frenzy, Quaranteds, Guana Batz, King Kurt, Phantom Rockers, Klax, The Grims, Resurex, Smell of Kat, Batfinks, or The Termites.