Oh that sexy wooden animal! Not 100% necessary in rockabilly music but it makes it so much sweeter. That added percussion (cause it needs to be slapped!) can drive someone into a frenzy that could cause them to throw their underwear at a band (slight exageration). Even I catch myself playing "air stand up bass" (I'm not that only one right?).  In today's entry I present to you 10 of the best slap stand up-tastic songs (does that sound uncool?) ever…..or the best I could think of at the moment. Enjoy!
Elvis Presley "Thats alright mama"
Call it cliché. But Bill Black's work on this record was the template for all things rockabilly for the last 62 years.
Skeets McDonald "You oughta see grandma rock"
This is just epic slapping! I've tried to search for who did it but there seems to be no one listed. That or I'm a terrible blogger. Just listen!
Imelda May "Johnny got a boom boom"
Bass played by Al Gare, this is ridiculously simple to play (according to multiple musicians I've talked to) but even more infectious.
Lee Rocker "String bass, guitar, and drum"
I'm a big fan of Lee Rockers solo work. Bullet Proof is classic early 2000's rockabilly. This was off his 2007 album "Black Cat Bone". Luckily I don't have to look up who's playing cause…you know….hes the bass player. Here he sings about his time in the Stray Cats while giving that wooden instrument a good beating.
Bill Haley and his Comets "Rock a beat boogie"
Marshal Lytle did that diddy! Bill Haley and his Comets has some of the best slap bass from the 50s. Rock Around the Clock would've been too cliché.
JD McPherson "Signs and Signifiers"
A slow one for a change. One of the greatest bass solos ever made. Don't even try to disagree!
Hi Tones "Night of Love"
Released on Wild Records a couple years ago. This is just a damn good song.
The Ricochets "Migraine"
I know, I know……..I know. This is borderline psychobilly. In my opinion this era of the band is just straight up neo rockabilly (first time I've posted that term on the blog…HOORAY!). The bass here gets more slappy than anything made by the Stray Cats (can I use the term slappy?)
The Desperados "Lets Have Some Fun"
One of my favorite modern-day rocknroll acts. They've remade this song which is amazing in its own right but this has a special place in my heart. One of the best Wild Records tracks ever.
Big Sandy & His Fly Rite Boys "Chalk It Up To The Blues"
One thing this blog has been missing since I started it is Big Sandy and His Fly Rite boys. Shame on me. Shame shame! Classic modern rockabilly. Not just the bass,  every instrument is right. Its essential to this list. Or any list. Make a shopping list for someone and randomly put "Chalk it to the blues". It won't make any sense but in a way it will…..okay it won't.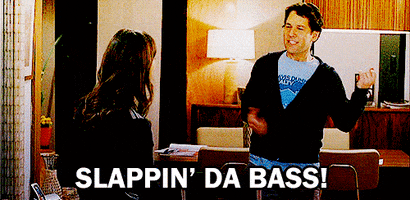 Hope you enjoyed this collection I've compiled from my brain. Maybe you'll make a playlist and walk around the grocery store while people wonder what that clicking sound is coming from (it's happened to me!). Feel free to comment if you agree or disagree. Any other songs you think are the best?  I do heavily recommend you LIKE the Rockabilly Nerd Facebook to keep up to date with current Rockabilly….Nerd….stuff…..oh boy that should've been more creative.
Come back next time where I'll critique waitresses at 50s diners on how they're not accurate.